HAIR EXTENSIONS
Ask our stylists for a free, no obligation consultation for Hair Extensions which we have introduced into our Salon. We offer Micro weave, La weave, Micro & Nano Rings and tape extensions. We are suppliers of Redken Clean Maniac Silicon and Sulphate free shampoo which helps with the up-keep of your hair extensions and ensures your guarantee.
Gift vouchers are available to purchase in the Salon. These vouchers can be used against any treatment or product.
Recommend a Friend on your visit to the Salon and you will both receive a 20% discount at your next appointment
EDINBURGH PARK EMPLOYEES & GYM MEMBERS
Receive 10% discount on every visit to the Salon.
CHILD'S FIRST HAIRCUT
Bring your Baby or Young Child along for their first haircut. Take away a certificate and a lock of their hair as a keepsake.
20% Off Discount Offer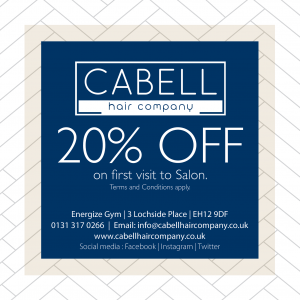 Terms & Conditions
Any discount offered will only be applicable to a treatment that we provide at Cabell Hair Salon and only one discount offer will apply on each visit. If this is your first visit to our Salon and you have been offered a discount through an outside source, only that discount will apply. Any offers displayed on our website or Social Media are only applicable within the time frame advertised.